Our complete line of packaged systems includes: Packaged Air Conditioners, Packaged Gas Furnaces and Air Conditioners, Packaged Heat Pumps and Packaged Hybrid Heat.
These self-contained systems are located outside of the home, mounted on the ground or the roof, and ducted into the home.
Just like individual furnaces, air conditioners and heat pumps, these package units carry SEER, AFUE and HSPF ratings. The higher the rating, the more energy efficient the unit is. We carry a wide offering that includes advanced features such as 2-stage compressors, variable speed fans and quiet operation.
Gas Heating & Electric Cooling Product Offering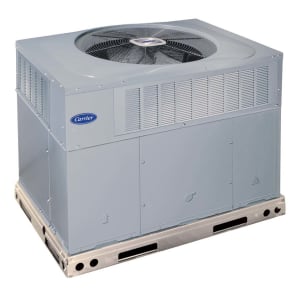 Performance™Series 16 Packaged Gas Furnace/Air Conditioner System
View Brochure
Model Family: 48VG
Efficiency SEER/SEER2: Up to 16 SEER2
Efficiency EER/EER2: 11.5 EER2
Annual Fuel Utilization Efficiency: Up to 81%
Energy Star Rated: Energy Star®
Sound Level: As low as 72 decibels
Refrigerant Type: Puron®
Gas Valve: 2-Stage (Single Stage for ultra-low Nox models)
Blower Motor: Multi-speed (9-speed)
Compressor: Two-stage compressor
Factory Warranty Parts: 10-year parts limited warranty upon registration
Factory Warranty Compressor: N/A
Heat Exchanger Warranty: lifetime stainless steel heat exchanger limited warranty upon timely registration.
Manufacturer's Stated Benefits:
Blower motor aided, enhanced summer dehumidification
Multi-speed blower improves comfort and aids quiet operation
Aluminized steel, Turbo-Tubular™ design heat exchanger enhances heat transfer
Thermostatic Expansion Valve (TXV) refrigeration management maintains proper flow to help insure reliable, efficient operation
Fully insulated cabinet
Air purifier, humidifier and ventilator compatible
Filter drier system protection from moisture and contaminants
Corrosion-resistant inducer assembly with stainless steel shaft
Envirotuff™ rust-proof base with integrated drain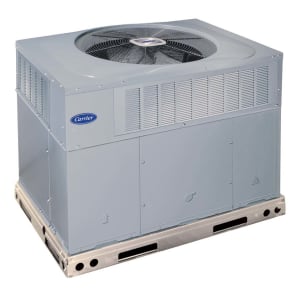 Comfort ™Series 14 Packaged Gas Furnace/Air Conditioner System
View Brochure
Model Family: 48VL
Efficiency SEER/SEER2: 13.4 SEER2
Efficiency EER/EER2: 11 EER2
Annual Fuel Utilization Efficiency: Up to 81% AFUE
Energy Star Rated: No
Sound Level: As low as 72 decibels
Refrigerant Type: Puron®
Gas Valve: Single-stage
Blower Motor: Multi-speed
Compressor: Single-stage compressor
Factory Warranty Parts: 10-year parts limited warranty upon registration
Factory Warranty Compressor: N/A
Heat Exchanger Warranty: lifetime heat exchanger limited warranty upon timely registration
Manufacturer's Stated Benefits:
Blower motor aided, enhanced summer dehumidification
Multi-speed blower improves comfort and aids quiet operation
Aluminized steel, Turbo-Tubular™ design heat exchanger enhances heat transfer
Thermostatic Expansion Valve (TXV) refrigeration management maintains proper flow to help insure reliable, efficient operation
Fully insulated cabinet
Air purifier, humidifier and ventilator compatible
Filter drier system protection from moisture and contaminants
Corrosion-resistant inducer assembly with stainless steel shaft
Envirotuff™ rust-proof base with integrated drain
Heat Pump Product Offering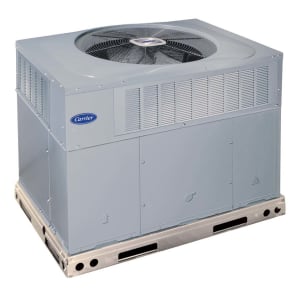 Performance™Series 15 Packaged Heat Pump System
View Brochure
Model Family: 50VR
Efficiency SEER/SEER2: Up to 15.5 SEER
Efficiency EER/EER2: 12 EER
Efficiency HSPF/HSPF2: 8.5 HSPF
Energy Star Rated: Energy Star Rated®
Sound Level: As low as 71 decibels
Refrigerant Type: Puron®
Blower Motor: Multi-speed
Compressor: Two-stage compressor
Factory Warranty Parts: 10-year parts limited warranty upon registration
Factory Warranty Compressor: N/A
Manufacturer's Stated Benefits:
Blower motor aided, enhanced summer dehumidification
Multi-speed blower improves comfort and aids quiet operation
Thermostatic Expansion Valve (TXV) refrigeration management maintains proper flow to help insure reliable, efficient operation
Fully insulated cabinet
Air purifier, humidifier and ventilator compatible
Filter drier system protection from moisture and contaminants
Envirotuff™ rust-proof base with integrated drain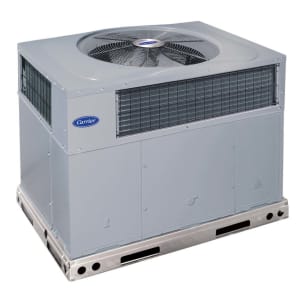 Comfort™Series 14 Packaged Heat Pump System
View Brochure
Model Family: 50VT
Efficiency SEER/SEER2: 13.4 SEER2
Efficiency EER/EER2: 11 EER2
Efficiency HSPF/HSPF2: 6.7 HSPF2
Energy Star Rated: No
Sound Level: As low as 73 decibels
Refrigerant Type: Puron®
Blower Motor: Multi-speed
Compressor: Single-stage scroll
Factory Warranty Parts: 10-year parts limited warranty upon registration
Factory Warranty Compressor: N/A
Manufacturer's Stated Benefits:
Blower motor aided, enhanced summer dehumidification
Multi-speed blower improves comfort and aids quiet operation
Thermostatic Expansion Valve (TXV) refrigeration management maintains proper flow to help insure reliable, efficient operation
Fully insulated cabinet
Air purifier, humidifier and ventilator compatible
Filter drier system protection from moisture and contaminants
Envirotuff™ rust-proof base with integrated drain
Filter drier system protection from moisture and contaminants
Corrosion-resistant inducer assembly with stainless steel shaft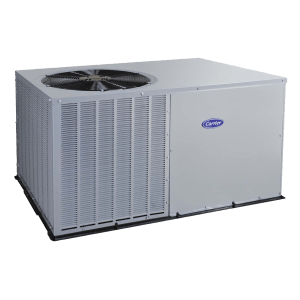 Comfort™Series 14 Packaged Heat Pump System
View Brochure
Model Family: 50ZH
Efficiency SEER/SEER2: 13.4 SEER2
Efficiency EER/EER2: 11 EER2
Efficiency HSPF/HSPF2: 6.7 HSPF
Energy Star Rated: No
Sound Level: As low as 73 decibels
Refrigerant Type: Puron®
Blower Motor: Fixed-speed
Compressor: Single-stage scroll compressor
Factory Warranty Parts: 10-year parts limited warranty upon registration
Factory Warranty Compressor: N/A
Manufacturer's Stated Benefits:
Fixed-speed blower motor
Fully insulated cabinet
Air purifier, humidifier and ventilator compatible
Envirotuff™ rust-proof base with integrated drain
System protecting high-pressure and loss of charge switches
Sound reduction: forward swept fan blades
Filter drier
Optional ArmorCoat™ tin-plating to enhance corrosion resistance
Dual Fuel / Hybrid Heating Product Offering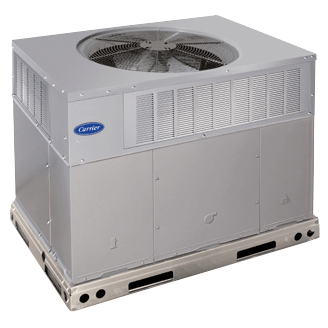 Performance™ Series 15 Packaged Hybrid Heat® System
View Brochure
Model Family: 48VR
Efficiency SEER/SEER2: Up to 15.5 SEER
Efficiency EER/EER2: 12.5 EER
Annual Fuel Utilization Efficiency: 81 AFUE
Efficiency HSPF/HSPF2: Up to 8.5 HSPF
Energy Star Rated: All sizes meet ENERGY STAR® qualifications
Sound Level: As low as 68 decibels in cooling mode
Refrigerant Type: Puron®
Blower Motor: Multi-speed
Compressor: Two-stage compressor
Factory Warranty Parts: 10-year parts limited warranty
Factory Warranty Compressor: 10-year compressor limited warranty
Heat Exchanger Warranty: 20-year heat exchanger limited warranty
Manufacturer's Stated Benefits:
Compressor and blower motor aided, enhanced summer dehumidification
Multi-speed blower improves comfort and aids quiet operation
Aluminized steel, Turbo-Tubular™ heat exchanger enhances heat transfer
Thermostatic Expansion Valve (TXV) refrigeration management maintains proper flow to help insure reliable, efficient operation
Fully insulated cabinet
Air purifier, humidifier and ventilator compatible
Filter drier system protection from moisture and contaminants
Corrosion-resistant inducer assembly with stainless steel shaft
Envirotuff™ rust-proof base with integrated drain
Electronic spark to pilot ignition
Hybrid Heat® system auto changeover to gas in colder temperatures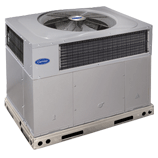 Comfort™Series 14 Packaged Hybrid Heat System
View Brochure
Model Family: 48VT
Efficiency SEER/SEER2: 13.4 SEER2
Efficiency EER/EER2: 11 EER2
Annual Fuel Utilization Efficiency: 81% AFUE
Efficiency HSPF/HSPF2: 6.7 HSPF2
Energy Star Rated: No
Sound Level: As low as 73 decibels
Refrigerant Type: Puron®
Blower Motor: Multi-speed
Compressor: Single-stage scroll compressor
Factory Warranty Parts: 10-year parts limited warranty
Factory Warranty Compressor: N/A
Heat Exchanger Warranty: lifetime heat exchanger limited warranty upon timely registration
Manufacturer's Stated Benefits:
Blower motor aided, enhanced summer dehumidification
Aluminized steel, Turbo-Tubular™ design heat exchanger enhances heat transfer
Fully insulated cabinet
Air purifier, humidifier and ventilator compatible
Filter drier system protection from moisture and contaminants
Corrosion-resistant inducer assembly with stainless steel shaft
Envirotuff™ rust-proof base with integrated drain
Louver metal outdoor coil grilles for hail and vandalism protection